Rescues 2the Rescue is a program created by Working Dogs for Conservation and the International Fund for Animal Welfare. The program aims to place high-energy dogs in careers and homes that complement their vitality. To achieve this goal, R2R provides standardized evaluation tools and a platform for shelters and trainers to connect and communicate.
Working Dogs for Conservation scientist-detection dog teams locate targets of the utmost importance to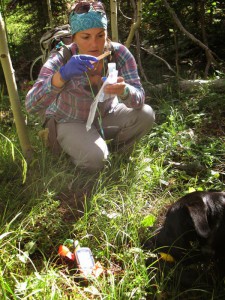 wildlife and wild land conservation. Helping imperiled species requires quality data on whereabouts and population demographics—data which can be hard to come by for rare species. To this end, conservation detection dogs have proven to be an important tool, frequently providing data more efficiently than other methods, or succeeding where other methods fail.
Leaders in the field since 2000, Working Dogs for Conservation has worked in over a dozen countries on more than 40 species. Working Dogs for Conservation collaborates with select partners—such as wildlife and land management agencies, universities, and other nonprofit conservation organizations—who are positioned to parlay our teams' data into meaningful conservation outcomes.
Founded in 1969, the International Fund for Animal Welfare saves individual animals, animal populations and habitats all over the world. With projects in more than 40 countries, IFAW provides hands-on assistance to animals in need and advocates for saving populations from cruelty and depletion.
IFAW addresses companion animal welfare by providing urgent, hands-on care and helping communities create their own sustainable plans to ensure dogs and cats are safe and healthy for the long term. We believe that everyone should be able to experience the joy of positive relationships with dogs and cats, and we work closely with communities to allow humane attitudes to flourish while ensuring they are able to meet the basic needs of their animals.
For more information please consult our FAQ.