Easy Three-Step Pre-Test
We realize it can be difficult to set aside time to evaluate the dogs in your care.  Shelter staff and volunteers can do this easy, three-step "pre-test" as they go about their regular duties.  It will help you and your team identify good candidates for the full Rescues 2the Rescue Evaluation.  All you need is a ball.
1.     Bounce the ball in front of the kennel and talk to the dog – does the dog watch you or the ball?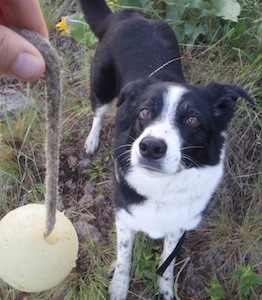 2.    With your hands a few feet apart, hold both the ball and your other (empty) hand up to the kennel at the same time – what does the dog want?
3.    The next time you take the dog out of his/her kennel, take the ball or another favorite toy (nothing food based) with you.  Be sure to show them the ball or toy before entering the kennel or leashing, maybe bounce it a time or two to spark their interest.  When you bring them out, what do they do – investigate their surroundings, interact with or react to other dogs, or remain focused on the ball or toy?
Dogs who show a strong focus on the ball are good candidates for further testing.  If a dog shows strong interest in steps 1 & 2 but is more distractible during step 3, it might still be a good idea to do the R2R Evaluation with them.  For example, dogs who are more interested in getting out the door for a bathroom break should still be considered for evaluation if their focus on the ball in steps 1 & 2 was good.  Step 3 will help you prioritize which dogs to evaluate first.
Printer-Friendly Pre-Test
Recording and Posting Evaluation Videos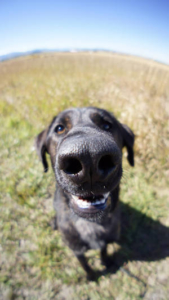 We know recording the evaluation can be a challenge but the video is perhaps the most important tool you have to show trainers – who might be too far away to meet the dog in person – just what your candidate dog can do.  While we appreciate your creativity, the most important thing you can do with your video is show viewers exactly how the dog handles each and every one of the evaluation tests.  The most effective and informative videos are those filmed from a tripod or other stable surface with a wide enough view to show the entire evaluation area.  It is better for viewers to see what the dog is doing in the space than it is to get close-ups and creative points-of-view.
You or your organization will need a YouTube account to upload evaluation videos.  You will only be able to embed one YouTube video into each dog's profile, so it is best to film the entire evaluation in one long take.  This will likely save you time, too – it never fails that someone forgets to push record for a segment of the evaluation and then you have to go back and do it again.
If you need to film shorter clips, you can edit them together before linking the final video to your dog's profile. YouTube has a video editor tool, so you don't need to download a special program to do this.  If you would prefer, you can create a playlist on YouTube and R2R administrators can help you include a link to the playlist in the dog's profile.  Do not try to include a link to a playlist in the YouTube field of the evaluation form, it will not embed properly.
Do you have a tip or tool to share?
We have been working at this for a long time but that doesn't mean we know everything.  Do you have ideas, suggestions, or tricks you think would be helpful to other members of this community?  We would love to hear about them!
Send us an email at [email protected] or use our Contact form to submit your great ideas and we just might post them here.
Additional Resources    Go Back to Tips & Tools