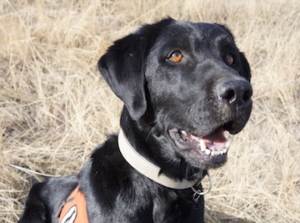 Titan was rescued from a county animal shelter in rural Montana.  When he joined the Working Dogs for Conservation team as a trainee, he was something of a bull in a china shop.  He was a black flash of non-stop movement who did not know what to do with all his energy.
While Titan was plenty ball-crazy and willing to please, he just didn't quite have the "right stuff" to be a full-time working dog.  Titan let the WD4C staff know that he loved learning and wanted to do his best but being a career dog was just not the right fit for him.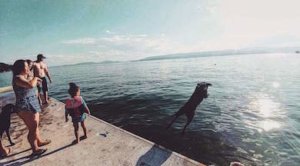 The training and life-skills Titan gained during his "internship" with WD4C helped him figure out how to manage his abundant energy. He learned to love napping in his crate and how to settle down when he is loose in the house.  When he decided life as a working dog wasn't for him, his handlers saw his new potential as a great active pet.  These days, Titan is enjoying summer days swimming at the lake and summer nights snuggling up with his new family.
Not every dog who comes into training decides they want the job.  However, the training and skills they learn as a candidate will often help transform them from an overwhelming, difficult-to-adopt hooligan into a wonderful, active companion.
Success Stories